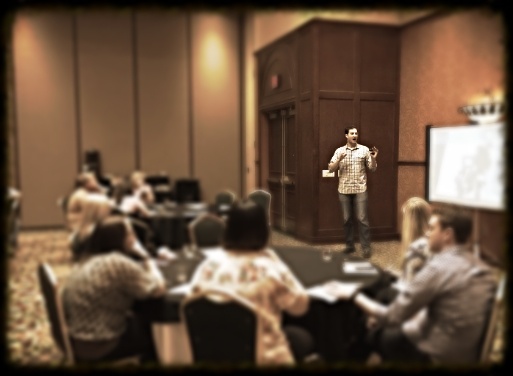 I think the real reason I started the Tulsa HUG group was to begin the conversation. I learned an awful lot about inbound marketing from Hubspot. I attended last years awesome and presitgious INBOUND 2015. I think that was my first time to ever know what a HUG group was. I ran into some HUG leaders from Texas on the elevator and saw they were holding an award. I asked them about it and they said Hubspot recognized them as a leader in their community.
I think that's where the initial concept of beginning a HUG group set in. The conference was a live experience to sit down face-to-face with other marketing professionals in the Inbound Marketing space that were challenged with the same things I was challenged with. We could listen and dialogue and take back ideas of what other marketers where doing - in real time.
Alas, a recipe of learning was born to me!
In April, we hosted our 2nd Tulsa HUG event and was honored to have Christopher LoDolce, Hubspot's Inbound Professor, lead our session. in my humble opinion, it was AWESOME!
Chris led us through the discussion of Buyer Personas. He explored the reasons why we should have one, how it impacts our content development, and ways to strategize researching our buyer personas. Can you perceive the value here?
5 ways to get value from these HUG events
So I get it. You might be thinking that this group, if you don't use Hubspot marketing software, will eventually approach you to buy the software. As full disclosure, I am a partner Value Added Reseller for Hubspot. And where it would be self-serving to sell you some software, I also believe in the process.
I am quoting our most recent speaker from Hubspot when I say, "You don't need Hubspot to perform sound inbound marketing." So where I would love to sit and chat you up about why you should buy Hubspot, it defeats the real purpose of forming this group - education.
You see, even as traditional marketers, we know how often things can change in this industry. As inbound marketers, it changes even more. I know I spend over half my time learning from one particular source - online content. This group is one of the few groups of people I can get together to talk about landing page strategies, keywords, funnel anlaysis, etc. (My wife, who supports me in all this, would love the lending ears!)
Now that the disclaimer is out of the way, I would suggest you take in these 5 value points if you are considering coming to one of our events and eventually networking with us. I have heard from multiple sources that this is one of the best values in marketing Tulsa has to offer!
1. No cost at all!
Seriously, we pick up the bill! The last 2 events consisted of coffee, juice, and small snacks. However, I am leaning more to a "Pizza and Beer/Wine" or "Cheese, Olives, and Crackers" scenario. It makes for a bit more casual and fun environment. Check out this HUG group from Philadelphia! See other HUG groups and their events here!
2. Spaced out sessions
We only meet up 4x per year but the learning does not stop there! You can connect to our online forums on LinkedIn or our Facebook and Twitter pages to stay in touch and collaborate. Want to grab coffee and discuss more topics? Sure! Just as long as my calendar is open - I'm game! Other members can also join or you can meet with them as well!
3. Keep up with latest professional trends in inbound marketing
We keep pace with whatever Hubspot is doing! Seriously - they rock on content. We also share from other sources but we find that our consistency in Husbpot methodology is better due to their large efforts in research and development of proven methods and training.
4. Learn more about the community
Learn the landscape of who is who in the local inbound community. How many times have you wondered what companies are also utilizing inbound technologies? This is a great place to start!
5. No membership required
Yeah, we don't ask for you to take an oath or swear allegiance. Ha! We just take down your name and email and that's it. We try not to be spammy and feel if we send out an email or two that it's in hopes of being helpful.
So there it is. Our next HUG Meet-up is July 10 from 2-4pm. It's on a Friday and we are thinking that most who come have arranged to take the rest of the day off. That is always a good reason to get out of the office and meet up!
To learn more about the Tulsa HubSpot User Group, visit us at http://tulsa.hubspotusergroups.com.